Why book a flight to the USA with Flight Centre
Home to New York City, the White House, the Grand Canyon, and so much more, the USA certainly packs a punch when it comes to holiday options. Whether you're planning to explore the States on an adventure-packed trip, relax on some of its bountiful beaches, or visit family and friends over the pond, Flight Centre can help you get there. Our Airfare Experts have access to some of the best deals in the industry, so we can help you find the right USA flights to suit you, your needs and your budget. So what are you waiting for? Book your flights to the USA with Flight Centre today, and kick-start your USA travel plans. For a bespoke quote and up to the minute prices, call one of our Airfare Experts on 0800 587 0058 today.
USA airfares and flight deals
How long does it take to fly to the USA?
When booking flights to the United States of America there are a wealth of options. Some of the most common flights are to the country's main international hubs of John F. Kennedy Airport in New York, O'Hare International Airport in Chicago, or Los Angeles International Airport in Los Angeles. A direct flight from London to New York takes around 7.5 hours; this route is operated by 11 airlines.
Major international airlines that fly to America from the UK
Main airports in the USA
Atlanta (ATL)
Denver (DEN)
UK departure airports that fly to the USA
Visa Information
British passport holders are eligible for the USA's visa waiver program, allowing you to visit the United States without a visa for 90 days. While you might not need to apply for a visa, you will need to gain prior authorisation through the country's Electronic System for Travel Authorisation, commonly referred to as an 'ESTA.' Those who are not approved by this online system prior to their flight may run the risk of being turned away at the airport. For travel on non-British passports or for more information, please ask your consultant.
Things to do in the USA
Before you book your USA holiday consider skiing the slopes of Colorado, flirting with lady luck in Las Vegas or feeling the heat in Miami. Or maybe see it all on a USA tour. Take the family to Orlando to visit Walt Disneyworld, Universal Studios and SeaWorld or enjoy a picturesque retreat for two to Vermont or Maine. The choice is yours and no matter what your style, we have a range of USA accommodation to suit.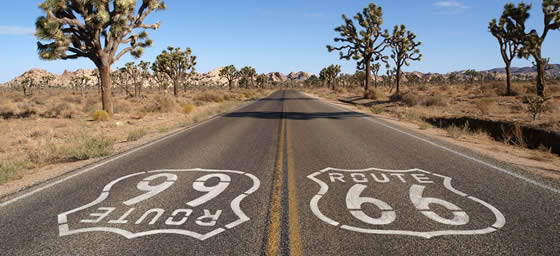 Get Your Kicks on Route 66
So where to book your USA flights? As a 7.5 hour flight from London, New York is not only a city that never sleeps but also a place perfect for tourist exploration. At the top of your list should be New York icons such as the Statue of Liberty, Time Square and the Empire State Building. Get your cultural fix at the Metropolitan Museum of Art, see a Broadway show or take a break with a walk through Central Park. Once you've finished your own tour of New York, experience the city as a local and explore Manhattan's trendy suburbs such as Greenwich Village, Soho and the Upper East Side.
San Francisco is a city that many list as their favourite. Perhaps it's the scenic sea views, the bohemian culture, the lively nightlife or all three. Whatever your interests, San Francisco is sure to leave you wanting more. Be inspired by a walk through the Misson district, where alleys feature a colourful concoction of Latin American and street graffiti art. Admire the views and Golden Gate Bridge while riding San Francisco's iconic cable cars to the city's highest points and explore the town at night to make new friends.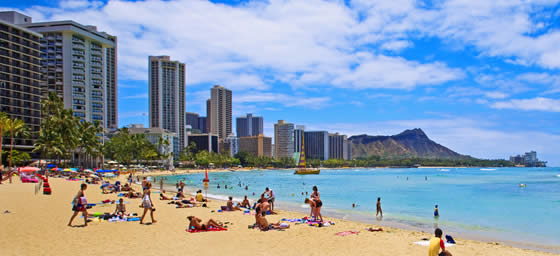 Honolulu, Hawaii
Hawaii is a veritable oasis in the mid-Pacific and a popular escape for those looking for a little winter sunshine. Book your flights to Hawaii now.
For more view our range of USA holiday packages that include flights, accommodation and often other extras like tours or car hire.
What our customers say about us...