Ancient lands full of modern surprises
A holiday in the Middle East is as diverse as the region itself. Depending upon interpretation, there are around 15 countries in the area including Israel, Lebanon, Jordan, Oman and the United Arab Emirates. Within this historic region there are grand cities of history - the facades in Jordan's Petra are a must see - and thriving metropolises of religious and cultural significance such as Jerusalem and Damascus to name a few.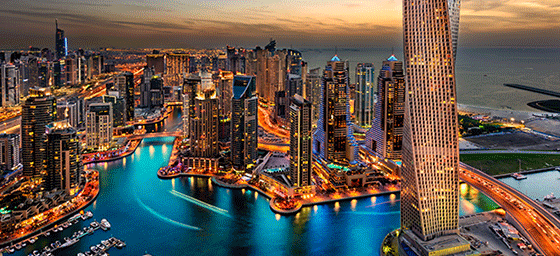 Dubai's beautiful Marina at night
In addition to the character-laden urban settlements, Middle Eastern landscapes harbour seas of dunes, palm-fringed oases and sociable seaside resorts. The bright waters of the Dead Sea will see you floating dreamily due to its high levels of salinity. Conversely, the Red Sea provides excellent opportunities for diving. If diving into the high life is more your style, don't miss Dubai – the flashiest of the United Arab Emirates. The UAE's low-key capital, Abu Dhabi, is also worthy of exploration, especially to see the contrasts between it and Dubai.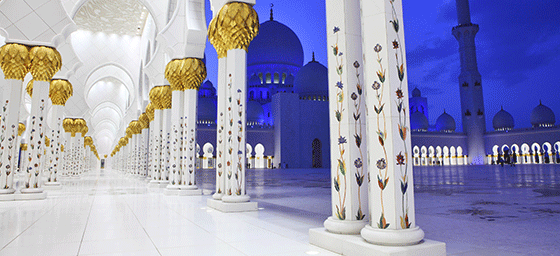 Sheikh Zayed Mosque in Abu Dhabi
Many holidays in the Middle East consist of Dubai and nothing else. To make the most of your trip, consider including a stay in Abu Dhabi as well which is just over an hours drive from Dubai.   
When to go
For desert hot year round, a holiday in the Middle East is the answer. Temperatures in the region are fully capable of reaching well over 40 degrees Celsius, and they often do in July and August when the region is at its hottest. For more baerable temperatures, the shoulder months of September to November and March to May are ideal for enjoying the region's outdoor pursuits. Culturally, it is recommended to avoid travelling to the Middle East during Ramadan. The event takes place at a different time each year (ask your consultant for the specific time), and is when many of the region's Muslim population abstain from food, drink and tobacco during the day. As a result, many businesses within the region close or offer limited hours during this time. 
The Flight Centre Difference
As one of the world's largest travel agencies, we have a huge range of Middle Eastern holidays.
Flight Centre has stores in Dubai, giving us on the ground knowledge.
Our consultants are experienced travel Experts.
We offer a Lowest Airfare Guarantee or you fly for free.
You can rest assured with our 24/7 Emergency Assistance.
Our holidays are ATOL and ABTA protected.