The clutch of pioneering architecture in Chicago's downtown reflect in the waters of Lake Michigan. This is the sprawling home of the blues, the hub of the USA's Midwest, where high- and lowbrow clash amid huge parks, public art, waterfronts, luxury and grit. Also an international hub for finance, industry and telecommunications, you've got much to get your teeth into as a visitor in The Windy City (a name with political, not meteorological origins). Diverse and reflective of its immigrant character, this is a city that works and plays hard too.
Chat to Us About Tailor-Making Your Trip!
Flight Centre's Travel Consultants really know their stuff when it comes to creating bespoke itineraries. Get in touch below, and let us tailor-make it easy
Top Chicago Airfares & Flight Deals
Choose a Method of Contact
Tap an option below
Email
Send a quick message
Fill in the form with as much detail as you can and we'll get back to you.
Sometimes it's easier to talk! Call us on 0800 587 0058 to chat instantly - It's the quickest way to get your quote! Our travel consultants are waiting to speak to you.
Sometimes it's easier to talk! Call us on 0800 587 0058, 9-6pm - It's the quickest way to get your quote!
Callback
We can call you right now
Enter your number below (UK only) and our lovely Consultants will give you a call
Opening Hours
Mon-Sat: 09:00 to 19:00
Sun: 09:00 to 18:00
We can call you, now or later.
Enter your number below and we can call you now or at a set time - the choice is yours!
We're not in the office right now
Enter your number and we'll call you back at a time that suits you (within opening hours)
Enter your number
Callback
When would you like us to call?
Select a day and time (UK)
Success!

Continue Browsing
Airlines that fly to Chicago
Chicago Airport
Flights from the UK to Chicago will disembark at Chicago O'Hare International Airport. The airport is located northwest of the city and is named after Edward O'Hare, a Medal of Honour recipient from World War II. The airport remains a hub for American Airlines and United Airlines.
Useful Information
British passport holders are eligible for the USA's visa waiver program, allowing you to visit the United States without a visa for 90 days. While you might not need to apply for a visa, you will need to gain prior authorisation through the country's Electronic System for Travel Authorisation, commonly referred to as an 'ESTA.' Those who are not approved by this online system prior to their flight may run the risk of being turned away at the airport. For travel on non-British passports or for more information, please ask your consultant.
Chicago has a thriving theatre community (belt out a round from Chicago the musical and you'll not be frowned upon) and prolific movie industry. Films produced here include Ferris Bueller's Day Off, The Blues Brothers and Batman Begins. It's a city that's inspired much journalism, comedy and literature and its museums and cultural institutions are highly regarded.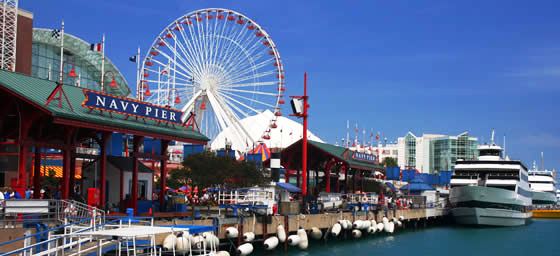 Navy Pier
There's so much to do in Chicago. If you can get tickets, a show at the city's famed Second City (a veritable stomping ground for Saturday Night Live comedians) will give you great insight into the city's sense of humour. Equally, try to catch a game of baseball at the Wrigley Field, where fans of the Chicago Cubs prove to be amongst some of the most passionate in the country. And when it's time to eat, Chicago's style of deep-dish pizza is worthy of a slice - even just so you can say you did.
A quick guide to neighbourhoods to visit, things to see and do:
Grant Park – hosts the annual, mouth-watering Taste of Chicago festival, Millenium Park and the Art Institute of Chicago.
The Magnificent Mile – adjacent to the downtown area, running along part of Michigan Avenue, has upmarket shopping and nightlife.
Eat at Bella Bacino's – arguably home of the best stuffed pizza (a Chicago specialty) in town.
Go to Lee's Unleaded Blues – in the Chatham-South Shore district, to hear the funkiest, unadulterated blues in its 'untouristy' glory.
Grab a flight to Chicago to be one of the 44 million people who visit annually or search for an accommodation deal. For more information on Chicago holidays check out our Chicago travel guide.