Los Angeles has something for everyone, from Hollywood and Universal Studios for movie and television fans, to Santa Monica, Venice and Malibu for beach lovers and the Getty centre and museum for those who enjoy something a little more cultural. The 'City of Angels' continues to bless visitors and, with our current offers on flights to Los Angeles, getting there is easy and affordable.
Choose an Option to Start Tailor-Making Your Holiday
Flight Centre's Travel Consultants really know their stuff when it comes to creating bespoke itineraries. Get in touch below, and let us tailor-make it easy
Airlines that fly to Los Angeles
Los Angeles Airport
Flights from the UK to Los Angeles will disembark at Los Angeles International Airport. Los Angeles International Airport (LAX) is located in Westchester, a coastal suburb in the southwest of this west coast metropolis. The Tom Bradley Terminal is named after the first African-American mayor of Los Angeles.
Useful Information
British passport holders are eligible for the USA's visa waiver program, allowing you to visit the United States without a visa for 90 days. While you might not need to apply for a visa, you will need to gain prior authorisation through the country's Electronic System for Travel Authorisation, commonly referred to as an 'ESTA.' Those who are not approved by this online system prior to their flight may run the risk of being turned away at the airport. For travel on non-British passports or for more information, please ask your consultant.
Hooray for Hollywood
Check out Kodak Theatre where the Academy Awards are held, experience the bizarre at Ripley's Believe it or Not, take a whirl around the Hollywood Wax Museum and visit the Griffith Park Observatory. Hire a car or choose from a range of Los Angeles tours and spot the celebrities who live along the famous Mulholland Drive.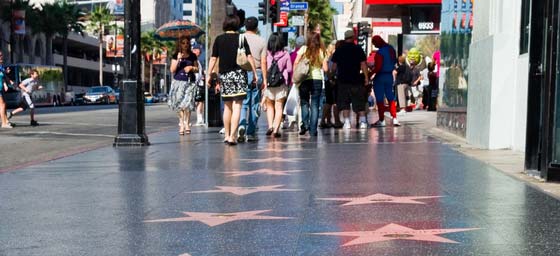 Stroll Among the Stars on the Hollywood Walk of Fame
For the ultimate indulgence, wander through the suburb of Beverly Hills for the exclusive shopping opportunities. Admire the elite outlets on Rodeo Drive, experience Saks Fifth Avenue on Wilshire Boulevard or revel in the latest fashions at Barneys New York. Within this area you will also find a wide range of Los Angeles accommodation including luxury hotels, self contained apartments and budget options.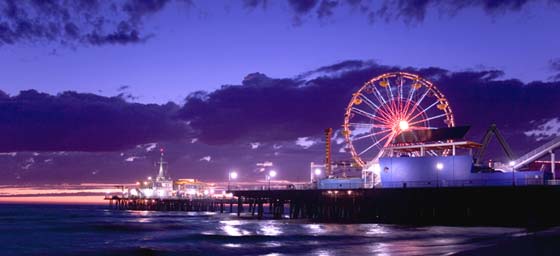 There's Always Something Fun to do at Santa Monica Pier
For a more laid-back vibe, head for coastal spots like Venice Beach and Santa Monica, which are now easily accessible from Downtown Los Angeles thanks to a new train line.
For more on Los Angeles holidays check out our Los Angeles travel guide or view our range of Los Angeles holiday packages that include flights, accommodation and often other extras like tours or car hire.