The northern Californian city of San Francisco has been truly blessed with expansive parks, photogenic cityscapes and fascinating attractions. Known for its liberal, relaxed attitude, the 'City by the Bay' offers many iconic attractions that demand attention; the Golden Gate Bridge, the historic cable cars, Alcatraz. If you only have time to see one thing while you're in San Francisco, make it the famous Alcatraz Island, dramatically located in San Francisco Bay. The island jail closed in 1963 but is open to tourists.
Chat to Us About Tailor-Making Your Trip!
Flight Centre's Travel Consultants really know their stuff when it comes to creating bespoke itineraries. Get in touch below, and let us tailor-make it easy
Top San Francisco Airfares & Flight Deals
Choose a Method of Contact
Tap an option below
Email
Send a quick message
Fill in the form with as much detail as you can and we'll get back to you.
Sometimes it's easier to talk! Call us on 0800 587 0058 to chat instantly - It's the quickest way to get your quote! Our travel consultants are waiting to speak to you.
Sometimes it's easier to talk! Call us on 0800 587 0058, 9-6pm - It's the quickest way to get your quote!
Callback
We can call you, now or later.
Enter your number below and we can call you now or at a set time - the choice is yours!
We're not in the office right now
Enter your number and we'll call you back at a time that suits you (within opening hours)
Enter your number
Callback
When would you like us to call?
Select a day and time (UK)
Success!

Continue Browsing
Airlines that fly to San Francisco
San Francisco Airport
Flights from London Heathrow, Manchester and Birmingham to San Francisco will disembark at San Francisco International Airport. San Francisco International Airport (SFO) is situated south of the city. The airport opened in 1927 and was awarded Best International Airport in 2008 by Skytrax.
Useful Information
British passport holders are eligible for the USA's visa waiver program, allowing you to visit the United States without a visa for 90 days. While you might not need to apply for a visa, you will need to gain prior authorisation through the country's Electronic System for Travel Authorisation, commonly referred to as an 'ESTA.' Those who are not approved by this online system prior to their flight may run the risk of being turned away at the airport. For travel on non-British passports or for more information, please ask your consultant.
Alongside Alcatraz and the traditional cable cars, the most iconic image of the city must be the Golden Gate Bridge, a worldwide symbol of San Francisco and the United States itself. Perhaps less universally known, though equally impressive, is Golden Gate Park, covering over 1,000 acres and featuring lakes, ponds, football fields, a museum – even a herd of buffalo.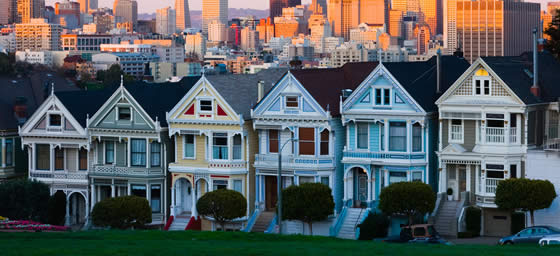 Painted Ladies, Alamo Park
Lombard Street has been immortalised in many television programs and films owing to its incredible steepness and eight hairpin turns. Bordering the Alamo Square Park are the Painted Ladies, a row of Victorian houses painted to perfection.
The city boasts a great variety of San Francisco accommodation located within a range of unique neighbourhoods. On Fisherman's Wharf, take a seat at some of the best seafood restaurants in the city, play mah-jong in Chinatown or check out the Castro, the centre of the city's gay and lesbian community. Wander San Francisco's commercial centre, Union Square or unlock the city's best kept secrets on a San Francisco tour.
Museum enthusiasts will appreciate the contemporary art works at the San Francisco Museum of Modern Art and enjoy wandering through the European antiquities in the Palace of the Legion of Honor. Kids will love learning about the world around us at the Morrison Planetarium and marvel at the marine wonders that call the Steinhart Aquarium home. And unquestionably, for a bit of sophistication, there's no better way to spend a day than in sipping wine in the grape-growing-famous Napa Valley.
You can explore these sights and more with our cheap flights to San Francisco.
For more on San Francisco holidays check out our San Francisco travel guide or ask about our range of San Francisco holiday packages that include flights, accommodation and often other extras like tours or car hire.